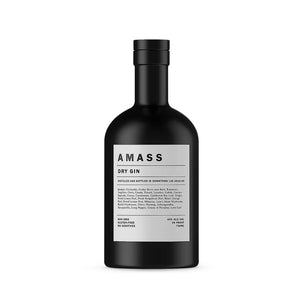 Amass Dry Gin
Regular price
$110.00
$0.00
Unit price
per
Amass Dry Gin is a celebration of both the abundant natural terroir and diverse cultural landscape of contemporary Los Angeles. Crafted in Downtown L.A. by Master Distiller Morgan McLachlan, Amass Dry Gin is a citrus-forward, herbaceous spirit balanced with earthy umami notes from Reishi mushroom and lion's mane mushroom. Of the 29 organic botanicals inside the bottle, 11 come from California, with several growing in Morgan's own backyard.
The corn base spirit is distilled with indigenous botanicals like California bay and cascara sagrada to ground vibrant flavors such as hibiscus, cardamom, cacao, and ginger, painting a vivid palate of the rich multicultural fabric that is the sprit of the City of Angels.
29 Botanicals: Juniper, Coriander, Cedar Berries and Bark, Rosemary, Angelica, Orris Root, Cassia, Fennel, Licorice, Cubeb, Cascara Sagrada, Cacao, Cardamom, California Bay Leaf, Ginger, Fresh Lemon Peel, Fresh Grapefruit Peel, Bitter Orange Peel, Dried Lemon Peel, Hibiscus, Lion's Mane Mushroom, Reishi Mushroom, Clove, Nutmeg, Ashwagandha, Sarsaparilla, Long Pepper, Grains of Paradise, Lime Leaf
Tasting Notes
Nose: Vibrant and fresh, with a citrus-forward welcome.
Palate: Citrus to the fore, supported by spicy notes of cardamom. California Bay Leaf provides an herbaceous quality on the middle of the palate. Gin opens with less heat on the front palate, but warms up to provide the necessary heat on the mid- and rear palate.
Finish: Mushrooms and Long Pepper settle on the rear palate for a peppery finish with earthy undertones.
Origin: Los Angeles, USA
Craft Gin (Gluten-Free, Non-GMO and Vegan)
700ml
45% ABV (90 Proof)
---