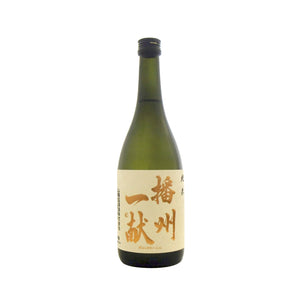 Banshu Ikkon Junmaishu Sake
Regular price
$55.00
Sale price
$59.00
Unit price
per
The brewery was founded in Hyogo Prefecture 180 years ago by Keiichiro Tsubosaka. After domestic consumption of Sake fell in the 1990s, our brewery aimed to improve the quality of our Sake. We started to make Daiginjo from Yamada Nishiki and it was then that our own brand, Banshu Ikkon, was born. The 7th generation owner, Yuichi Tsubosaka, who was appointed Toji, is intent on constantly improving brewing standards and taking Banshu Ikkon into the new era of Sake making; he is attuned to the brewing science and data and he thinks of how best to overcome new challenges and modernise the brewing of Sake.
The Banshu region where our warehouse is located is one of Japan's leading Sake rice-producing regions. We use Sake rice that originates in Hyogo Prefecture because we are committed to embodying the spirit of this region. This rice includes Yamada Nishiki, Yume Nishiki, Kita Nishiki, and Aiyama. Our brand, Banshu Ikkon is produced from Sake rice that is available only in Hyogo Prefecture. This best complements food made with locally sourced products. Banshu Ikkon has a scent that is soft and easily contained in the mouth. The aftertaste is light with a clean finish.
Hyogo is one of Japan's top producing sake prefecture. 

Origin: Hyogo, Japan
Sake: Junmai
Kake Rice: Hyogokitanishiki, 65% Polishing
Koji Rice: Hyogokitanishiki, 65% Polishing
Yeast: Kyokai No.901
Acidity: Amino 0.8 / Total 1.7
SMV: +1
720ml
16% ABV
Gold @ Kura Master Paris 2018
Recommended Drinking Temperature: Cold or Hot
---