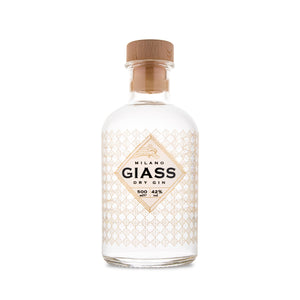 GIASS Milano Dry Gin
Regular price
$100.00
$0.00
Unit price
per
GIASS is the link between five friends and the time they share together over an aperitivo, wherever they can meet after a long day of work. To laugh, discuss and be with each other before the night kicks off, these are the moments suspended between times that Milan has called its own. From this simplistic yet structured ritual came the idea of the first London Dry Gin made in Milan.
The same fluidity water has before becoming a hardened piece of ice. The same way water flows from a liquid to ice. The same way water flows from a simple state of liquid into a structured block of ice pattern that water follows from its simple state of liquid to become a more structured piece of ice. And ice, "el giass" in the milanes dialect, is our element.
Transparent yet charming in its recurrent irregularity. GIASS is bottled in an elegant piece of silk-screen printing glass, inspired by the floors of the Galleria Vittorio Emanuele. GIASS' logo is a gift to the green dragon of the little widow – this is what we call the typical fountains spread around our city.

GIASS' soul is the expression of the fusion of its 18 botanicals, mixed in a sophisticated distillation process which gave birth to a different gin: a complex spirit, authentic and immediate, to be discovered also on the rocks. But be aware, it will require a further step to reach perfection. GIASS becomes a complete experience once it meets the forever changing and never constant 19th botanical. Your taste.
Botanicals: Juniper, Angelica Root, Coriander Seeds, Golden Apple, Orange Peel, Rose, Camomile, Violet, Orange, Hibiscus, Almond, Mint, Fennel Seeds, Verbena Citrus, Cardamon Seeds, Melissa Leaves, Cassia and Thymus.
Origin: Milan, Italy
500ml
42% ABV
---