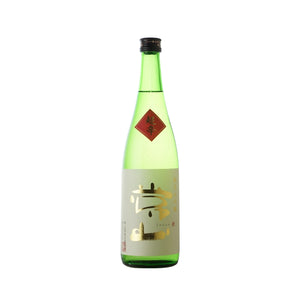 Jozan Junmai Cho Kara Sake
Regular price
$55.00
Sale price
$62.00
Unit price
per
Jozan Sake calls Fukui Prefecture home. Fukui is one of three rural prefectures on the west coast of Japan. The calm and easy life in Fukui is blessed with beautiful
nature. The name of Jozan Sake was born from the Tokoyama family name and means ʻeternal mountains.' The Tokoyama family counts eight generations as a
Sake brewery to present day. Many things have changed over the years, but the family continues to follow the spirit which joins the generations together. While observing the changes of the times, they vow to preserve the spirit and traditional culture that has connected thier generations while valuing new ideas and unique sensibilities to convey the appeal of their Sake.
Tokoyama  Brewery is particular about Sake rice and pure water grown in the Miyama area of Fukui City, They make Sake with the characteristics of light and
delicate taste that brings out the good taste of rice . In the beautiful mountains and clean water surroundings of Miyama, the rice is brought up gently with care, it
breathes in the mountain's nutrients and helps create a drop of Sake melted together with nature. The flavor of the rice is light but the Tokoyama family is
knowledgeable and draws out its taste, shaping the flavor and expressing it into either a full flavored richness or a crisp clean dry finish. Within every drop of Jozan Sake, the sincerity and pride of the Tokoyama family's artisan work can be experienced.
Origin: Fukui, Japan
Sake: Junmai
Kake Rice: Closed, 65% Polishing
Koji Rice: Gohyakumangoku, 50% Polishing
Yeast: FK5
Acidity: Amino 0.9 / Total 1.5
SMV: +10
720ml
15.8% ABV
Recommended Drinking Temperature: Cold or Hot
---