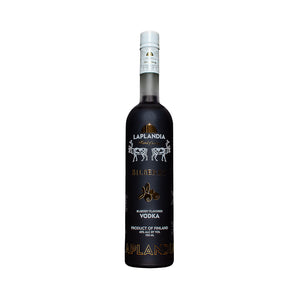 Laplandia Super Premium Vodka Bilberry
Regular price
$35.00
Sale price
$110.00
Unit price
per
The Laplandia 'Shotline' is mostly composed of flavors generally familiar to the average consumer. Unlike most flavored vodkas, however, we have made it our mission for the flavors to be the dominant note in the taste, instead of the alcohol. That is why most people when trying it for the first time, find it hard to believe they are as strong as 37.5%—40% ABV.
In order to achieve this, we use exclusively natural flavors in different forms such as essential oils, extractives and distillates. The entire process is environmentally friendly.
All the Shotline products are perfect to be consumed straight, but also provide an easy platform for cocktails. The vodka itself already includes the authentic taste of the fruit, the color and the alcohol, so it replaces the need for many extra ingredients thus simplifying and expediting the work of bartenders. This also allows regular consumers to create easy cocktails at home like they never have before.
Origin: Finland
Vodka (Bilberry Flavoured)
40% ABV
---